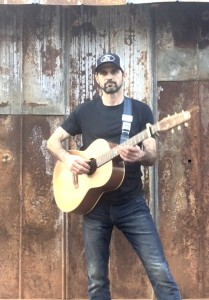 Piedmont Poet Picker
North Carolina Songwriter and guitar picker Mark Cool has been dubbed "Piedmont Poet Picker" by Rob Ellen of Scotland's The Medicine Show. Cool performs old-time Piedmont folk-blues guitar tunes alongside self-penned story-songs.  His songs and delivery are  reminiscent of Townes Van Zandt and Steve Earle. His revivalist guitar playing pays homage to early Piedmont folk-blues players such as Elizabeth Cotten, Etta Baker, and Mississippi John Hurt.
Mark was born and raised in the snow belt, in Syracuse, NY, in the Grassroots-Dandelion Collective.
As a teen, Cool learned fingerstyle guitar from Dana Klipp, an accomplished picker, who was also Elizabeth Cotten's accompanist.
In his early 20s, the aspiring troubadour followed a Nashville friend to Los Angeles, and spent 10 years there playing in bands and writing songs, and while he was there he also completed a guitar program at the Musician's Institute in Hollywood.
After marrying and starting a family, Cool relocated to Durham, North Carolina where he recorded two albums. He currently resides in Efland, NC on 3 wooded acres where he makes folk art from salvaged materials and strums guitar and writes.
Cool has toured Europe multiple times since 2008, playing folk clubs, house concerts, pubs and festivals.
Americana UK magazine picked his 2007 album "Introducing Mark Cool and the Folk Stars" as one of the top 20 of that year, alongside artists like Wilco, Crowded House, and Peter Case.
Cool has garnered radio airplay across the US and in Europe, and has been featured on NPR's "The State of Things," and "Car Talk."
"…honesty, integrity, simplicity, humour, understatement, restraint, a 'joire d'vivre' that can only be found in folk who know exactly where the bottom and the top can be found, catharsis, realisation…this is a rootsy, country, bluesy exposition of the highest order." -Paul Villers, American UK magazine.